Our Corporate Social Responsibility


Giving Back by Destination Asia: Our Promise
Embracing our CSR pillars, we take responsibility for our actions and strive to create a positive impact through our activities on the environment, consumers, employees and communities. At all times we monitor and ensure active compliance with the spirit of the law, ethical standards and international values. We manage the economic, social and environmental impacts of our operations to maximize the benefits and minimize the downsides.
Asia is our Home
Destination Asia is a proud member of the Asian community. This has been our home for over 22 years, our workplace, and we respect it with the highest principle. We remain fully committed to developing our work ethics and philosophies, to better the quality of life for those in our community who have little. We believe it is our social and moral duty to 'Give Back', providing the communities we visit and live in with the tools and education they need to improve their lives now and for generations ahead. At the core of each of our programs is the nurture and development of social services, education, empowerment, environmental care - and the provision of equipment and structural development to enable a self-sufficient life.
Click here to download 'Our CSR', a booklet with details on; our group CSR initiatives, key pillars, how to include CSR into an itinerary, current active projects and a roundup of our achievements to date.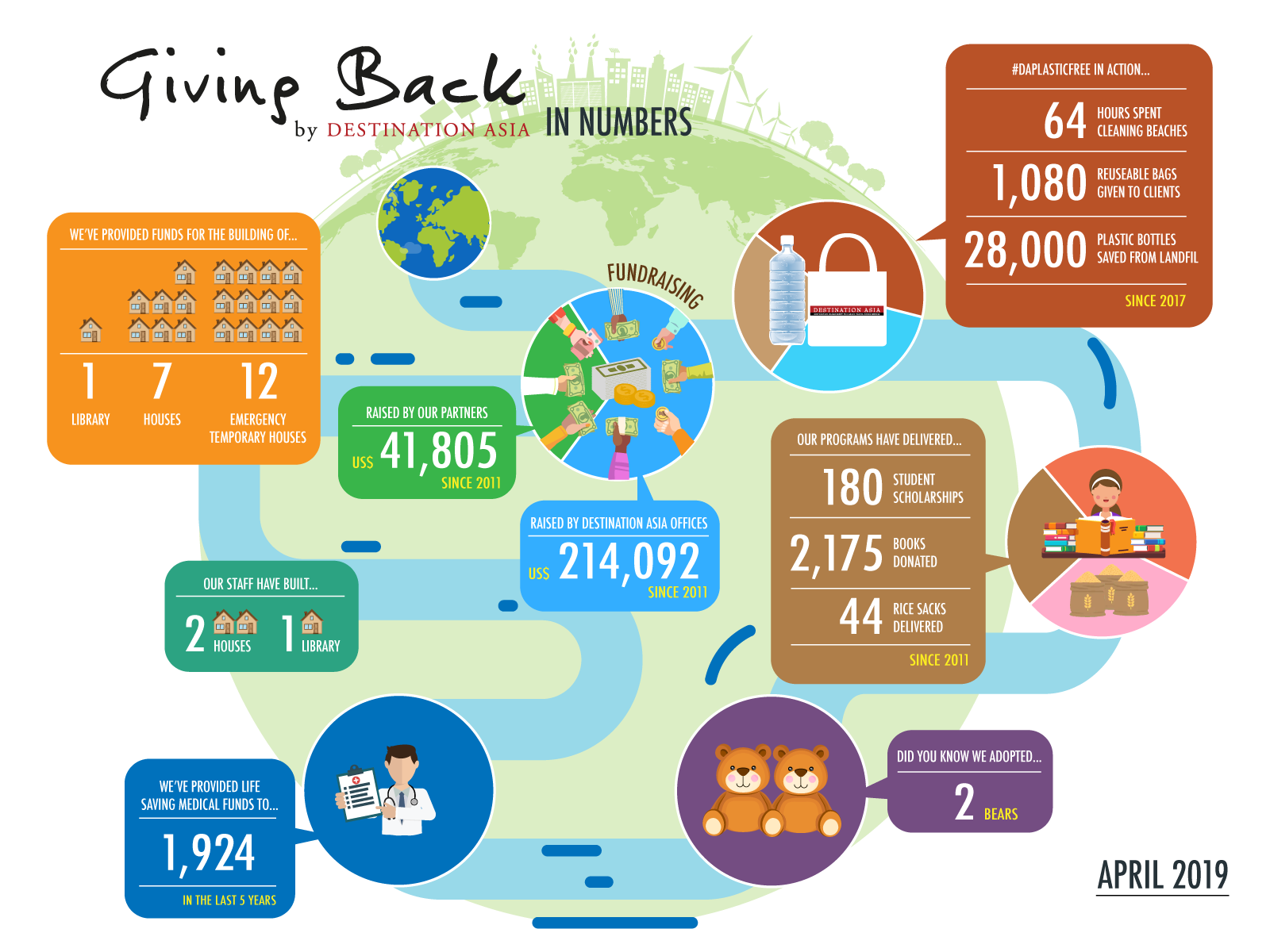 Overview of current CSR projects
and upcoming
Click on a project name to read full review.
Thailand
Project Name: Book Drive
Wat Klang Klong Luang School is located in a rural part of Chonburi Province and receives little support from outside organizations. The team at Destination Asia Thailand held a book drive in 2018 to raise both money and in-kind donations. Following the drive the team was able to purchase/donate; books, bookshelves, reading tables, cushions and electric fans.

Planned for 2019:
Destination Asia Thailand will support three different projects in 2019. These are; 'Box of Love' - consisting of donations in-kind given by staff; 'Royal Thai Navy Sea Turtle Conservation' - helping maintain facilities that nurture newborn endangered sea turtles; and 'Bann Dek Ramindra School for the Blind' – with a school visit to donate much needed equipment and financial support from staff.


China
Project Name: Dew Drops Little Flower
Dew Drops Little Flower provides comprehensive services including medical care, special care, and post-surgery care to children with complex medical conditions. Destination Asia China has sponsored less fortunate girls at the center over the past three years; sponsoring Little Guan Han in 2018.

Planned for 2019:
Sponsorship of Little Guan Han will continue into 2019 until she has made a full recovery and been adopted by a new and loving family.


Cambodia
Project Name: Sras Srang School & Community Teambuilding Projects
In 2018 Destination Asia Cambodia continued to support through funding, Sras Srang School through the donation of books and payment of a full time staff member. They also facilitated five community projects, ranging from donations of class materials to schoolchildren, to digging water wells, house building and assembling bicycles to help local children get to school.

Planned for 2019:
Four projects have already been confirmed in 2019. These include the decorating of two rundown schools, donating much needed school supplies and raising funds to support APOPO.


Indonesia
Project Name: Bali WISE program by R.O.L.E. Foundation
This is the third year Destination Asia Indonesia has supported intensive course training and the sponsoring of students. Bali WISE removes the barriers preventing disadvantaged Indonesian women to access further education and secure work. In 2018 the team also offset the carbon emissions of their staff outing by supporting a coral plantation project.

Planned for 2019:
The team will continue to work alongside Bali WISE program and sponsor students. D-Network aims to develop opportunities for people with disabilities and our team in Indonesia will provide support by offering internships at the office.


Japan
Project Name: ECOs of Tradition Program
In 2018 Destination Asia Japan launched a seven day tour that directly benefits locals at grassroots level while utilizing travel means that cause minimal damage to the natural environment.

Planned for 2019:
You Me We is a Tokyo-based non-profit organization that builds supporting relationships with local children's home. The team in Japan is in discussion as to how we can offer our support in 2019.


Malaysia
Project Name: Clean the City
The beach front area of Pantai Tanjung Lipat Likas in Sabah has been covered in recent years with increasing amounts of plastic waste. In conjunction with other tour operators, Destination Asia Malaysia attended the 'Riverbug Gives Back Program' to help clear waste and promote recycling amongst locals.

Planned for 2019:
Next year, Destination Asia Malaysia will take part in the 'Salt Trail Challenge' The event raises money to support Mercy Malaysia (Sabah Chapter), who develop activities and support those most in need in the Sabahan community.


Hong Kong
Project Name: Eco-gift Workshop
Destination Asia Hong Kong attended a workshop day by 'HandsOn Hong Kong', a non-profit organization with a mission to mobilize and empower the community to meet social needs through volunteer services. The team made eco-friendly skin care products that were donated to Harmony Garden Lutheran Centre for the Elderly in Hong Kong.
Planned for 2019:
Destination Asia Hong Kong has signed up for the Serve-a-thon as a 'Corporate Community Supporter'. The team will support Hong Kong's most in-need including the elderly and empowering people with disabilities.


Myanmar
Project Name: Medical Action Myanmar Healthcare
Thazin Orchid Clinic provides a diverse range of services for the community of Hlaing Thar Yar Township, with outpatient services from acute medical consultations to more complex treatment including TB and HIV. A donation from Destination Asia Myanmar provided over 300 patients with free healthcare in 2018.

Planned for 2019:
Destination Asia Myanmar will continue to provide support to Medical Action Myanmar in 2019, helping provide hundreds of people with free healthcare.


Laos
Project Name: Ban Thin Hong Riverside Village
Ban Thin Hong is a small village nestled on the banks of the Mekong River in Northern Laos. Destination Asia Laos has developed a CBT project to encourage a local partnership strategy. Visitors can gain access to a stunning natural environment while experiencing the local culture of Laos, enabling residents to generate a steady income through tourism development.

Planned for 2019:
Destination Asia Laos will continue regulate the tourism business at Ban Thin Hong and develop training programs in tourism & hospitality for local residents. Focus will also be placed on; conservation and reforestation; reintroducing endangered fish species into the river and saving endangered tortoises. With the cooperation of village headmen we will encourage villagers to replant 5 seedlings for every tree cut. For every guest, we will replant 15.


Vietnam

Planned for 2019:
Destination Asia Vietnam will work with 'Give a Hand' community project in 2019. The team will donate school equipment and supplies to remote areas of Northern Vietnam (Ba Be, Cao Bang & Ha Giang) to support ethnic minority communities in the poorest regions.


Singapore

Planned for 2019:
Dignity Kitchen is Singapore's first hawker training school for disabled and disadvantaged people. The team in Singapore is exploring options to sponsor disadvantaged children with on-the-job training so they can work towards a better future.

Giving Back by Destination Asia
Giving Back is a socially responsible group-initiative created in 2011 by Destination Asia to connect people and make a positive impact in the destinations where we operate. Giving Back is the name under which Destination Asia operates each of its CSR projects within their 11 destinations. Every year, each country sets aside a budget of US$5,000 specially to fund socially responsible projects. How these funds are distributed depends on the specifics of each project. A CSR representative within each country is assigned to work closely and connect the team with a selected local charity or enterprise, with the scope of projects in recent years varying greatly.
Our projects aim to build beneficial, long-term relationships that contribute to the improvement of livelihoods while preserving our planet's fragile ecosystem. We will continue to support education, community development, health and medical improvements, environmental initiatives, disaster relief and provide any urgent assistance that local communities may require. Our future steps aim not only to give back, but empower the people of these communities to build their own future through education, training and confidence building. Together we have been able to multiply the impact of individual efforts to transform lives, communities and the planet.
Giving Back leads this effort with innovative programs and partnerships by combining human collaboration and networked connections. Throughout Asia our employees continue to generously donate their talent, time, and compassion. They serve as volunteers in their communities or give to nonprofits, and Destination Asia embraces their enthusiasm to help change the world.